SW Carpenters
If you build it, they will come
Unions are the backbone of our economy, but more than ever unions struggle to demonstrate their value to their members. Swell partnered with one of the largest unions in America to help refresh the utility of their digital presence, and equip carpenters across the Southwest with the tools and resources they need to thrive in their lives, and in their careers.
View Website
→
The Approach
The Challenge
How do we give carpenters the tools they need in a changing economy?
It's no secret that unions provide essential support to their membership, but in recent years, even the most prominent unions faced an identity crisis among the latest generation of working professionals. How do we show our relevance? How do we amplify the services we provide? How do we build community and increase the opportunities and benefits for our members in an increasingly digital and social age? How do we better serve our members through the economic impact of the COVID-19 pandemic?
Southwest Regional Council of Carpenters approached Swell, and Swell delivered, overhauling the Council's online footprint to create a digital hub that helps the Council more effectively meet the needs of its members today and tomorrow. This meant designing and developing a new website that would grow with the union, and adopting and refreshing the brand identity to reflect the core principles of what it means to be a carpenter.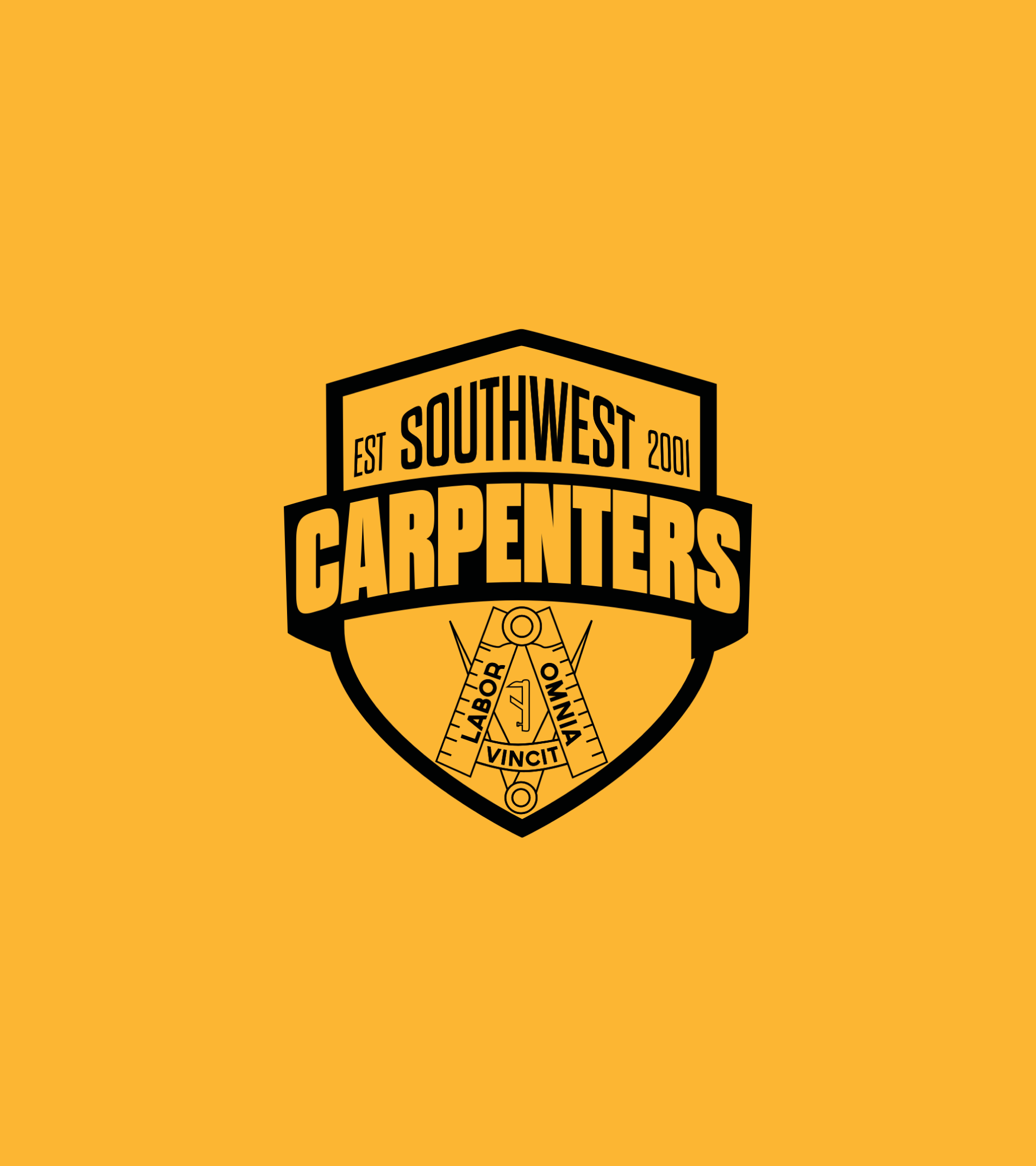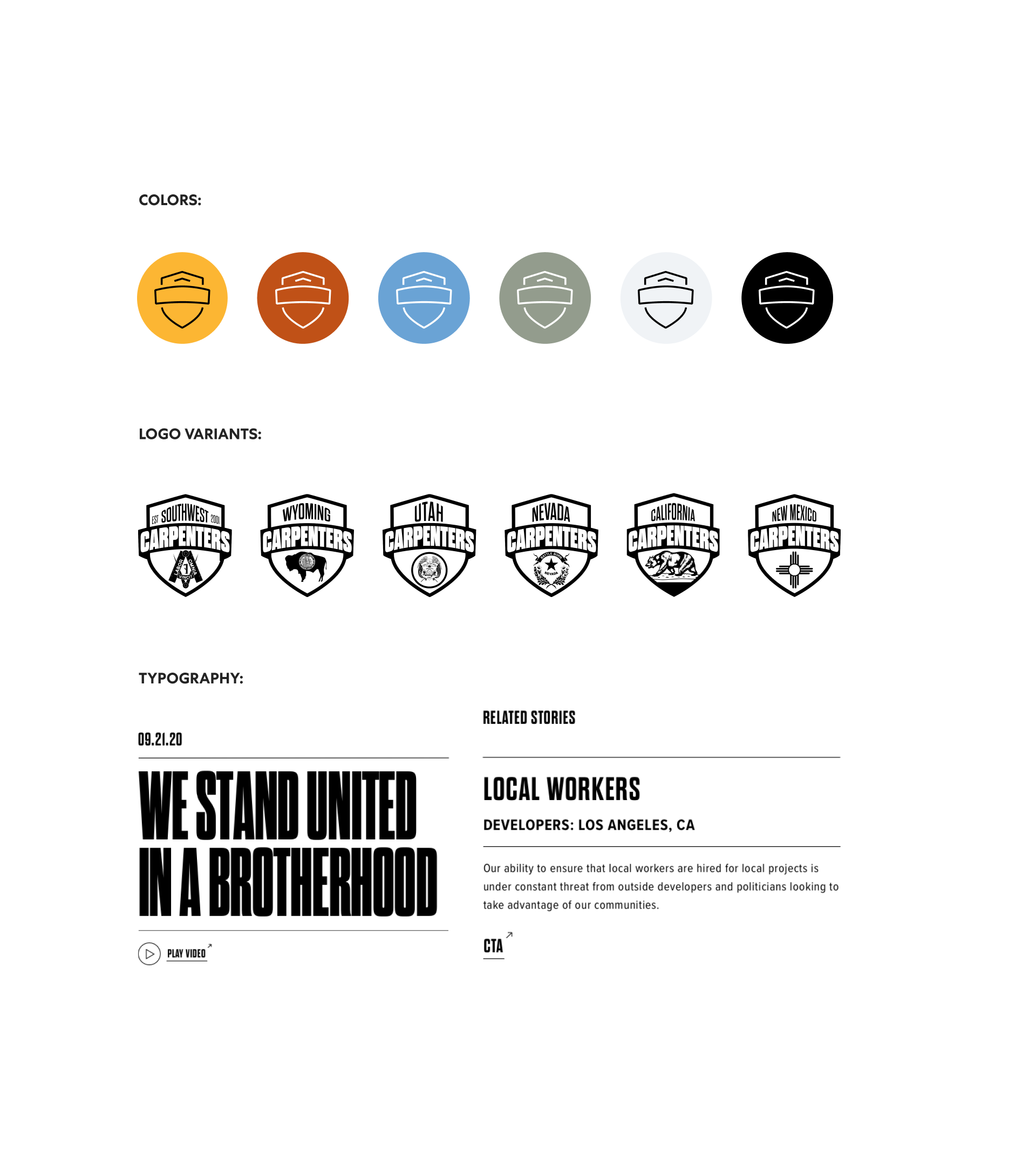 Identity Refresh Working with the Southwest Regional Council of Carpenters and their partners, we helped to roll out a fresh new identity in conjunction with the website relaunch.
The Brand
By carpenters. For carpenters.
Carpenters build our homes and businesses. Their hands touch every fabric and institution within the cities we call home. The brand identity is an extension of not only their ingenuity and creativity, but their strength, resilience, and resourcefulness.
We revised an updated brand to illustrate the Carpenters' core characteristics:
A color palette that reflects the materials of our target demographic
Type that is bold, clear, and embodies strength and solidarity
Styling nuances that demonstrate resourcefulness and ingenuity
Homepage The new SWRCC site makes a splash with a dynamic new homepage that elevates the brand. But like any good build, it's not just the fit and finish. The site is also highly functional by bringing the most important info for carpenters front and center.
The Website
A modern toolbelt for an employee, an advocate, and a community leader
We didn't just retool the existing website. We built it (we have carpenter puns for days) with a purpose: support the Southwest Regional Council of Carpenters in serving more than 55,000 members in six states.
The About Us Page tells the stories of union leadership while also lifting up important local information, allowing members and visitors to not only find their local union but get connected.
The Members' Section is revamped and restructured with a more intuitive user experience and navigation that puts members at the forefront of the website by providing various tools, trainings, and information in an easily accessible format.
Across the board, this website—in both English and Spanish—helps union members throughout the southwest access vital resources, breaking news and information, and tools for advocacy that help the 55,000 members not only find work, but feel empowered to grow in their careers and communities.
The Impact
Setting the stage for the future of union work
The revamped website and brand was well received and celebrated by union leadership, local union leaders, and members, and experienced an uptick in traffic and engagement at launch that persisted through fall and winter 2020.
At its core, a strong union ensures working people are able to thrive and work with respect and dignity. Today, tomorrow, and for years to come. We are proud to have partnered with Southwest Carpenters to help remodel their digital presence, and provide their base with a state of the art resource to help them not just in their careers, but in their lives. Carpenters are builders, and so are we.