A home for California
With systemic racism and a worsening housing and homelessness crisis keeping millions of Californians from finding stability—it was time to think collectively about creating real solutions. In collaboration with Housing California, Swell created and amplified The Roadmap Home, a comprehensive legislative strategy to champion racial equity and end homelessness in California by 2030.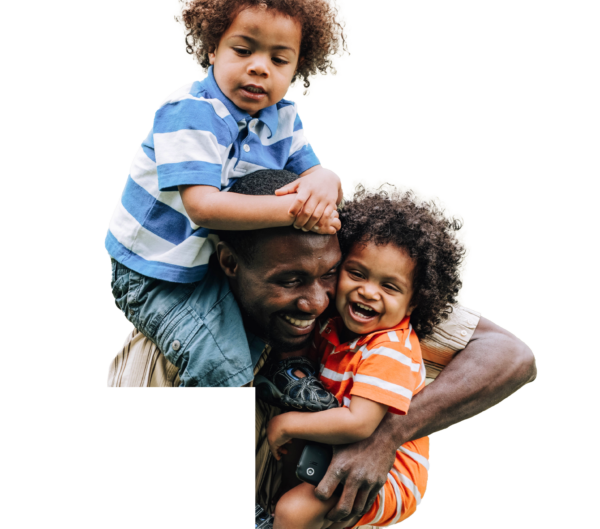 1 — The Challenge
Creating a compelling, accessible message while driving policy action at the top
In a state where broken promises are as common as In-N-Out Burgers, our challenge was complex.
First and foremost, how do we convince a disenchanted, skeptical public that change is possible? While the desire to end homelessness is real, a legacy of half-baked plans from nonprofits and politicians has made public buy-in tough to earn.
Most important—and essential to convincing the public that change is within reach—was creating a vision and a policy platform that unified the many different stakeholders in the space: homeless advocates, affordable housing advocates and developers, racial justice advocates, and tenants' rights advocates.

2 — The Brand
Standing up and standing out
With an issue so familiar to us all, our goal was to create a dynamic and bold brand that captured just how sweeping, comprehensive, and urgent the campaign is. The bright color palette allows us to point towards the optimistic future that the Roadmap envisions, and the typography provides flexibility and friendliness in application.
Ultimately, our brand identity grounds our message that we are all together in this bold journey to create affordable homes, end homelessness, protect low-income renters, and close the racial equity gap in housing and homelessness in our golden state.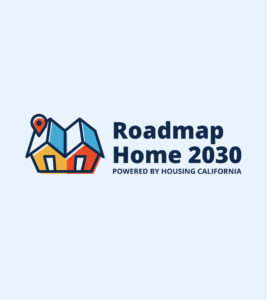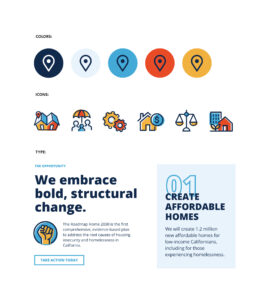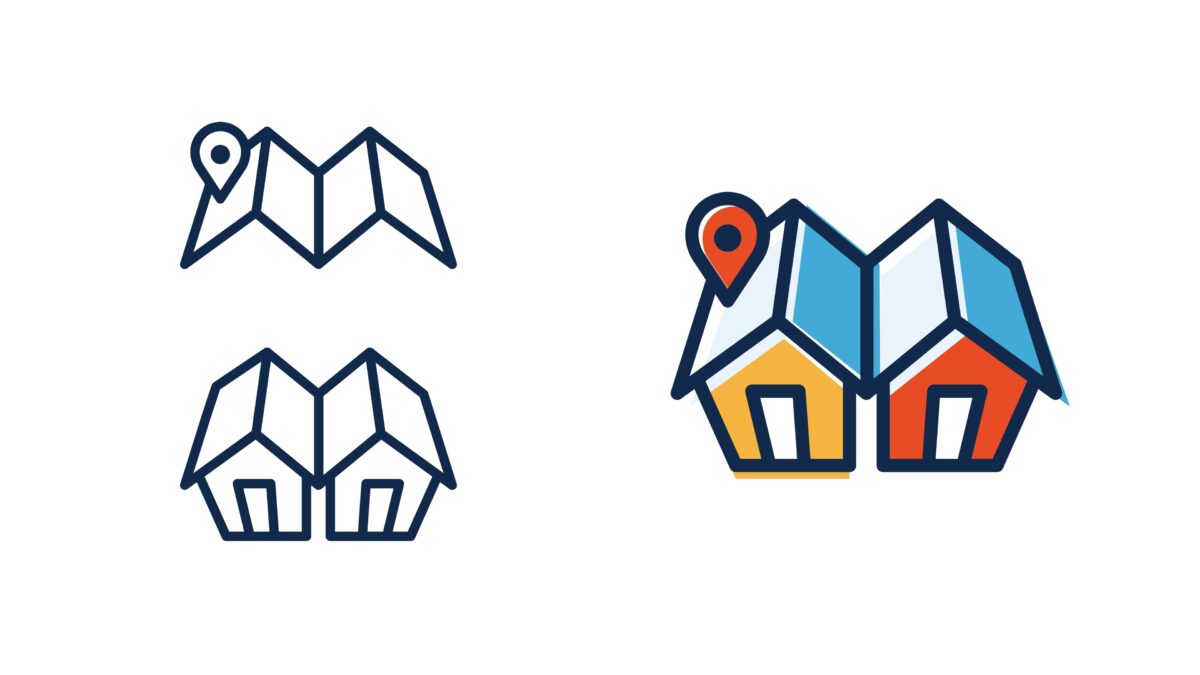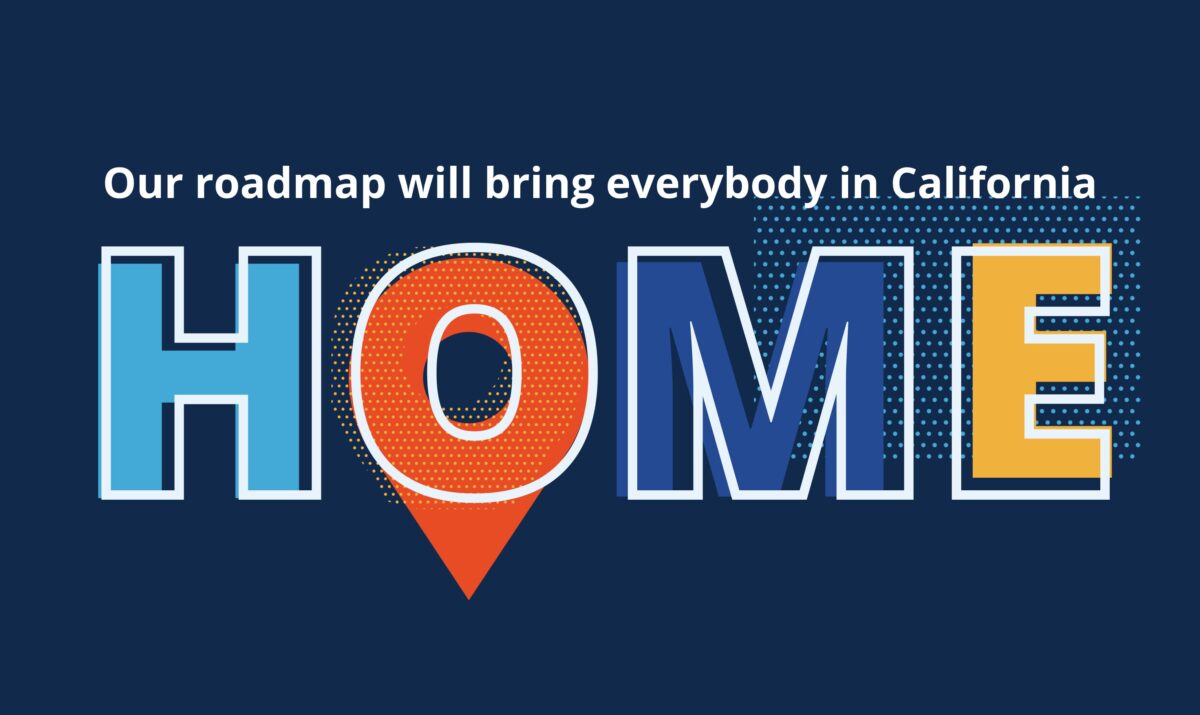 3 — The Website
Providing you with your policy advocacy arsenal
Utility and accessibility were the North Star.
With an extensive report including key search findings, legislative recommendations, and over 50 Roadmap-endorsed state and federal policies, we built our website to quickly and easily equip audiences with the information they need to take action.
Compelling statistics, streamlined fact sheets, and digestible copy transformed a complex research report into a powerful call to action.
4 — Print Materials
Spreading the word
Our team worked to distill the roadmap into separate, easily digestible documents for users to download, print, and share with their networks.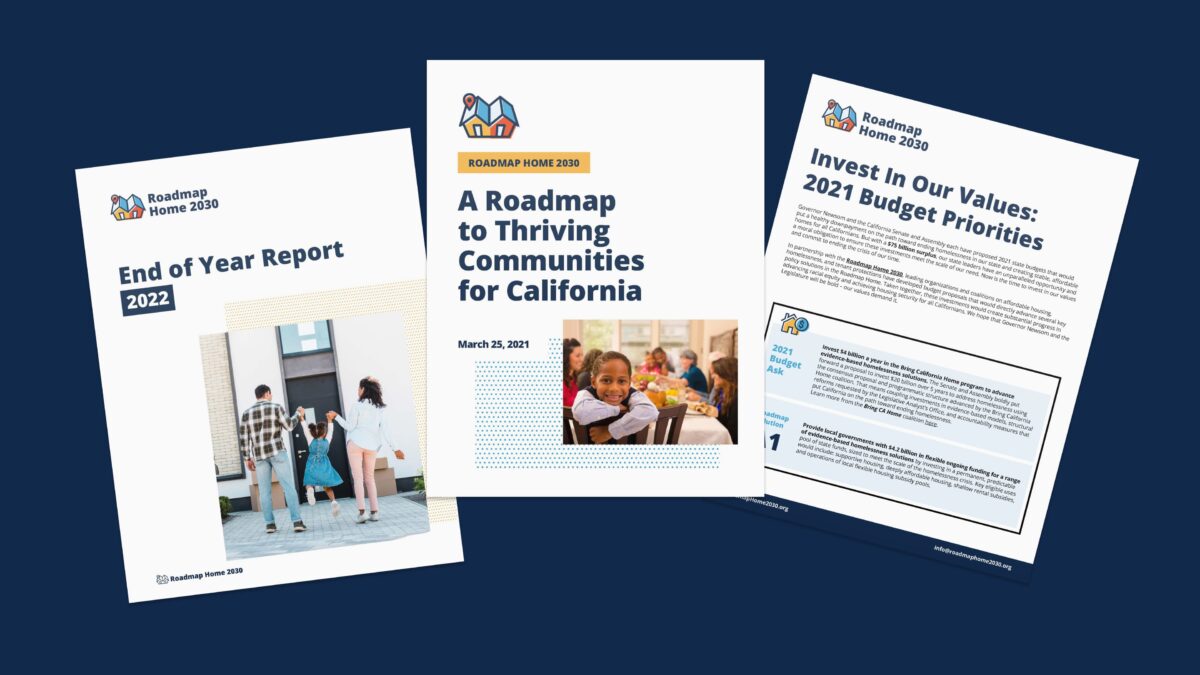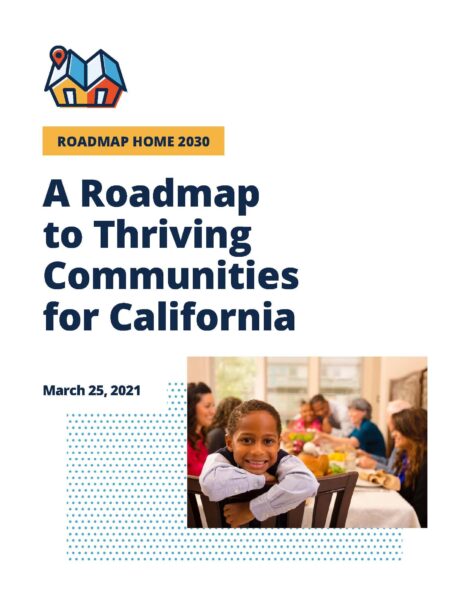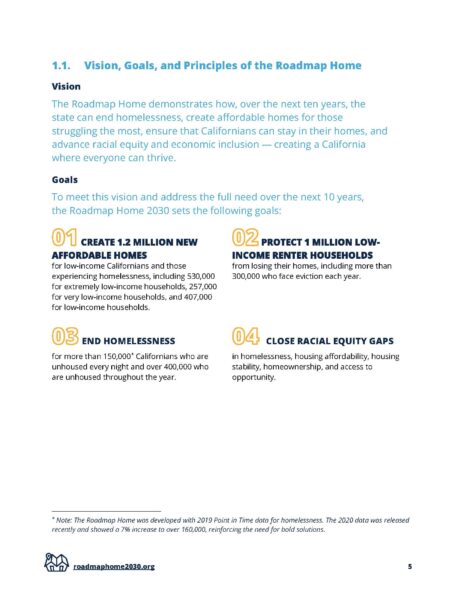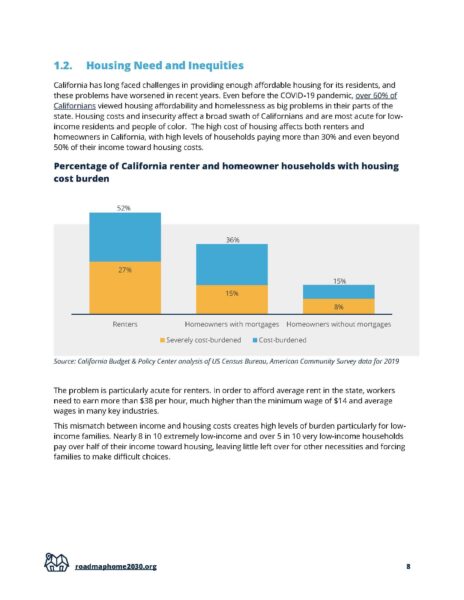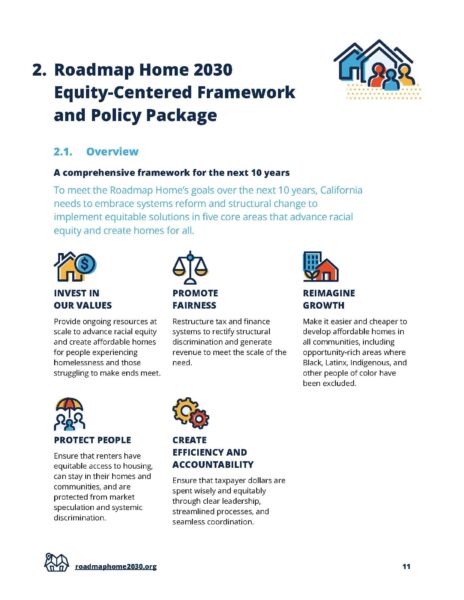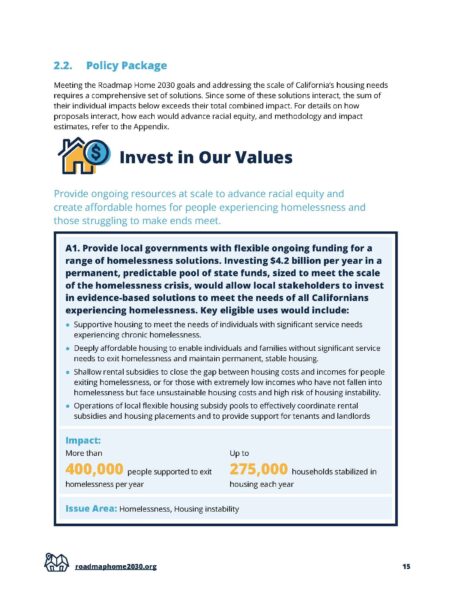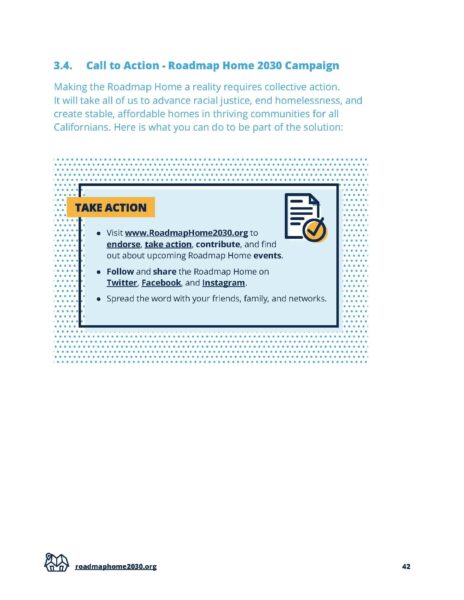 5 — Social Media
Education, advocacy, and a little spice
At launch, the primary goal of our social media creative was to grow our base of supporters and drive immediate political action. To make the Roadmap Home's social media presence feel more coordinated and compelling, we were intentional about demystifying policy proposals through compelling graphics, dynamic memes, and quick responses to breaking news. This supported the Roadmap's policy and advocacy work by teaching our audience about relevant historical events and their impact today, clarifying concepts and terms related to housing advocacy, and highlighting proven solutions and work being done today to improve the state's outlook. We were careful to applaud leaders and partners when they took concrete action to support ending the housing and homelessness crisis, and to be specific in articulating what we needed them to do next.
6 — Activation
Reaching a critical mass year over year
To hold our elected officials accountable, we utilized click-to-email campaigns to increase political pressure on a number of priority Roadmap Home issues. These microsprints helped lead legislators to commit to long-term housing and homelessness solutions through the annual state budget, for example, which committed a historic $12 billion to housing and homelessness solutions, or through end-of-session final policy pushes.
At the same time, our ads startegy grew the audience, and engaged them in actions to support the campaign goals. These included pushes for endorsements among public citizens and people of influence, as well as an evergreen email-your-elected campaign to solicit political support for and commitment to the Roadmap's priorities.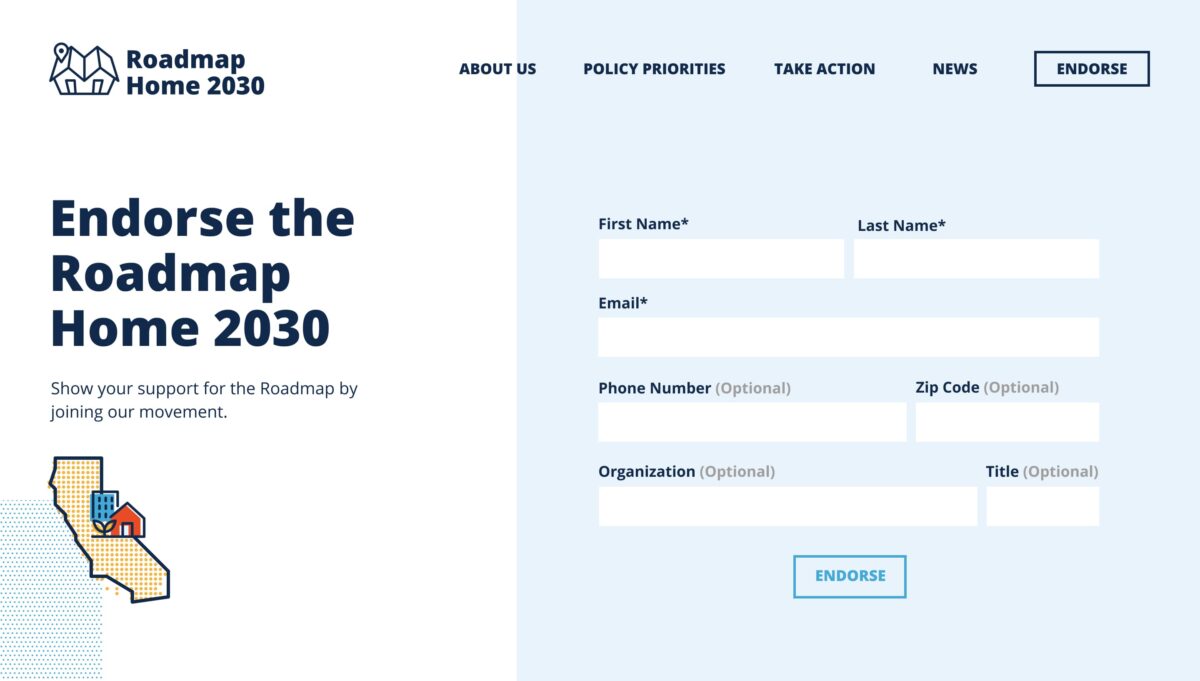 7 — The Impact
Making history while shaping the future
Our work in collaboration with countless dedicated organizations, advocates, and policymakers led to a state budget that invests $12 billion to address our state's housing and homelessness crisis—the largest investment California has ever made to end homelessness. And that's only Year 1.
In the weeks, months, and years to come, our coalition is growing to make sure those investments and legislative victories continue, and ensure critical bills in our plan pass so no family falls through the cracks.