United Way of Greater L.A. – Home for Good
Scaling Solutions
Homelessness in Los Angeles isn't just caused by one thing. It's a crisis born of unjust policies, systemic discrimination, and a lack of political urgency—one that cannot be solved through siloed efforts. Home For Good, an initiative launched by United Way of Greater L.A., partnered with Swell to build a digital space that fuels collaboration to end homelessness.
The Approach
THE CHALLENGE
Maintain consistency while creating distinction
While Home For Good derives credibility and recognition from its affiliation with UWGLA, there was a need to distinguish the coalition's unique function, purpose, and voice from the umbrella organization and Everyone In, another United Way initiative that takes an altogether different approach to achieving the same vision.
In building Home For Good's website, it was critical that Swell create a new brand identity that's both relatable to a wide variety of audiences and also sets them apart as facilitators of learning, connection, collaboration, funding, research, and political influence.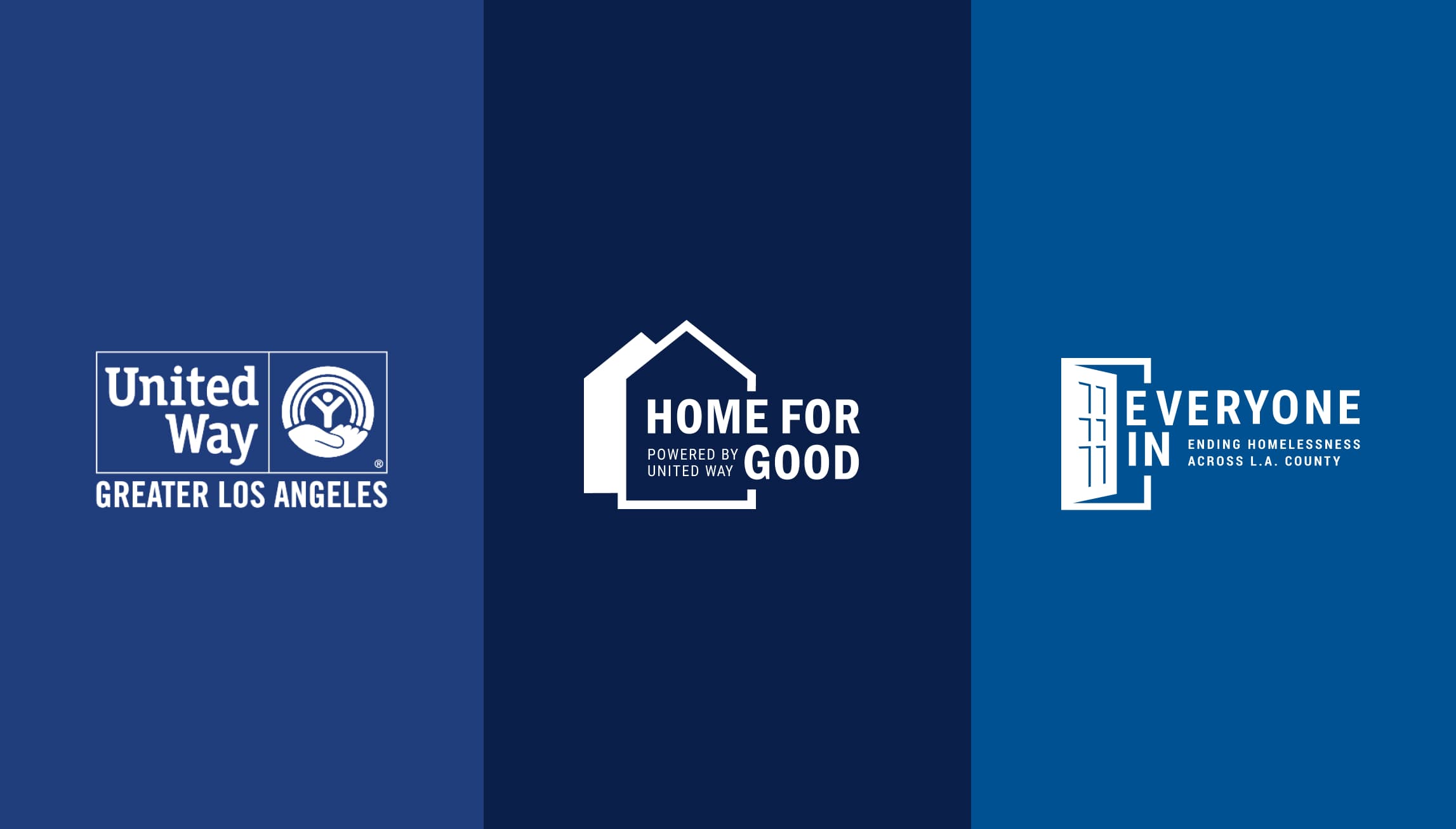 Logo Design The Home For Good logo was crafted using similar elements to the other logos in the United Way of Greater L.A. system to create recognizability and harmony between their efforts.
THE BRAND
Dignity, respect, and sensitivity
Too often the discussion around ending homelessness is not centered on those affected, and branding can feel exploitative in nature. Dignity, respect, and sensitivity became the key pillars in forming Home For Good's brand identity. The decision to only include imagery on the website wherein a person experiencing homelessness is receiving support or services––rather than suffering––reflects these pillars.
The logo created provides for a subtle connection to UWGLA, while allowing Home For Good to build its own brand equity––along with a similar, yet still unique, color palette.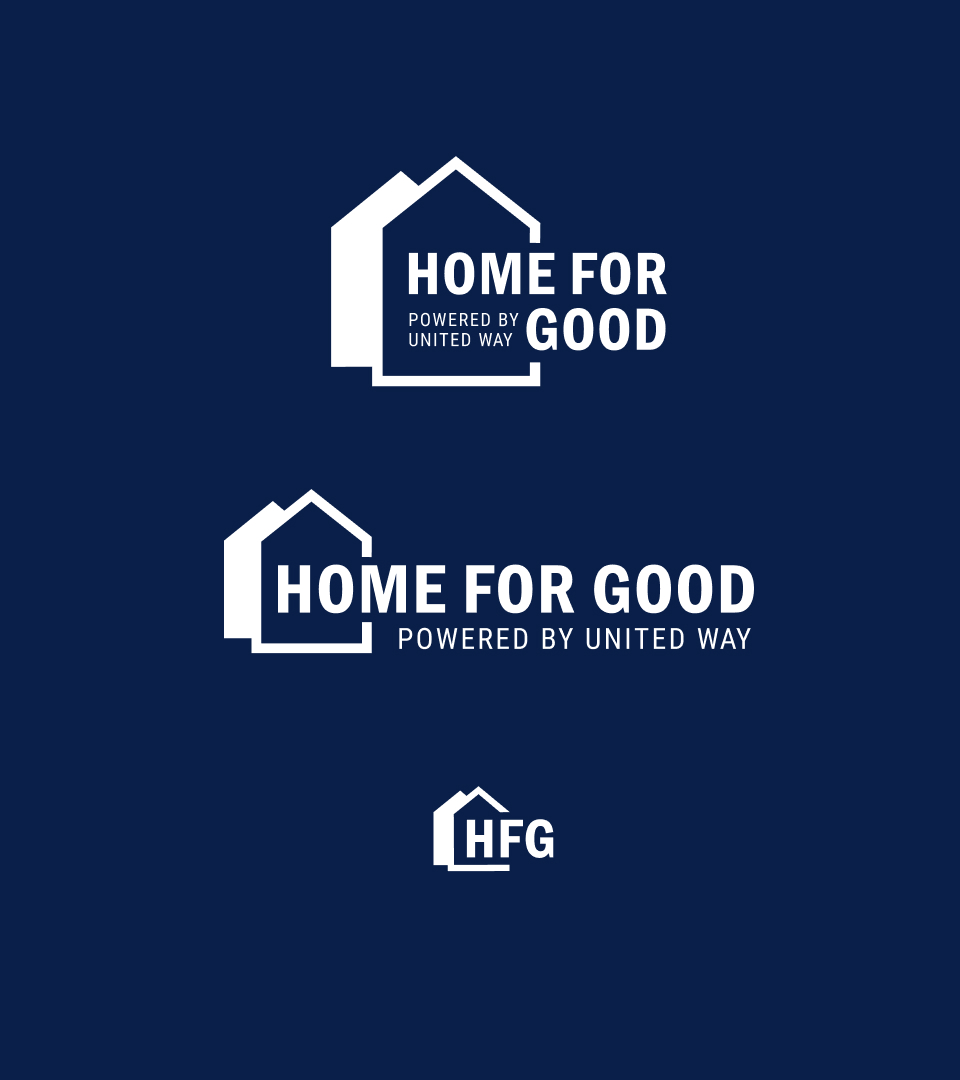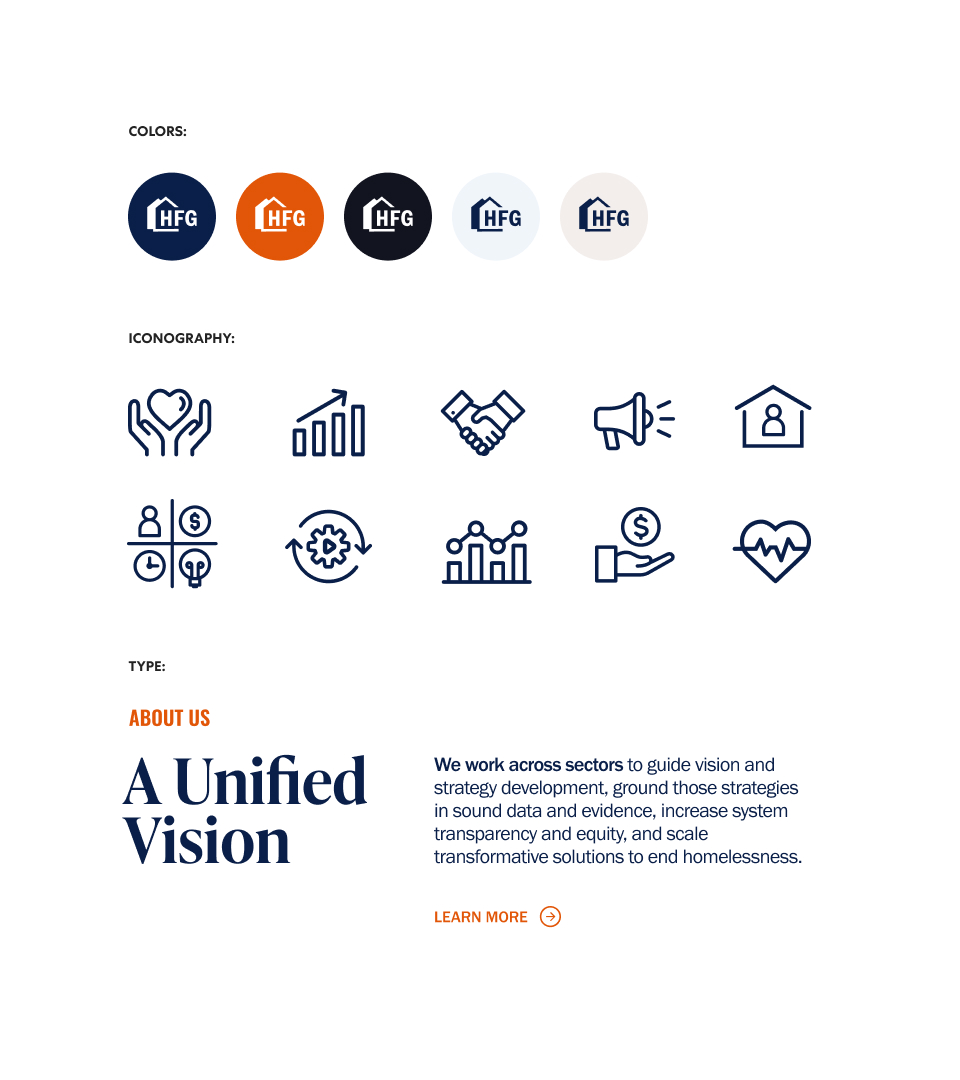 Identity Similarly, the identity utilized colors that were derived from the larger United Way color palette while using typefaces that would amplify the more "grasstops" orientation of Home For Good.
THE WEBSITE
Designed to engage and empower
The primary objective of Home For Good's website is to engage and empower people with authority to fund data-driven, systems-wide initiatives that accelerate real change, increase equity, and ultimately end homelessness.
With this in mind, Swell designed the website to be an ever-evolving and dynamic home for solutions that scale. Since policies, practices, funding opportunities, and research surrounding homelessness are constantly in flux, the site was built with backend simplicity in mind to accommodate frequent updates.
The site's thoughtful navigation assists in funneling users to their desired outcome quickly and effortlessly so as to eliminate any barrier to entry and support major calls to action.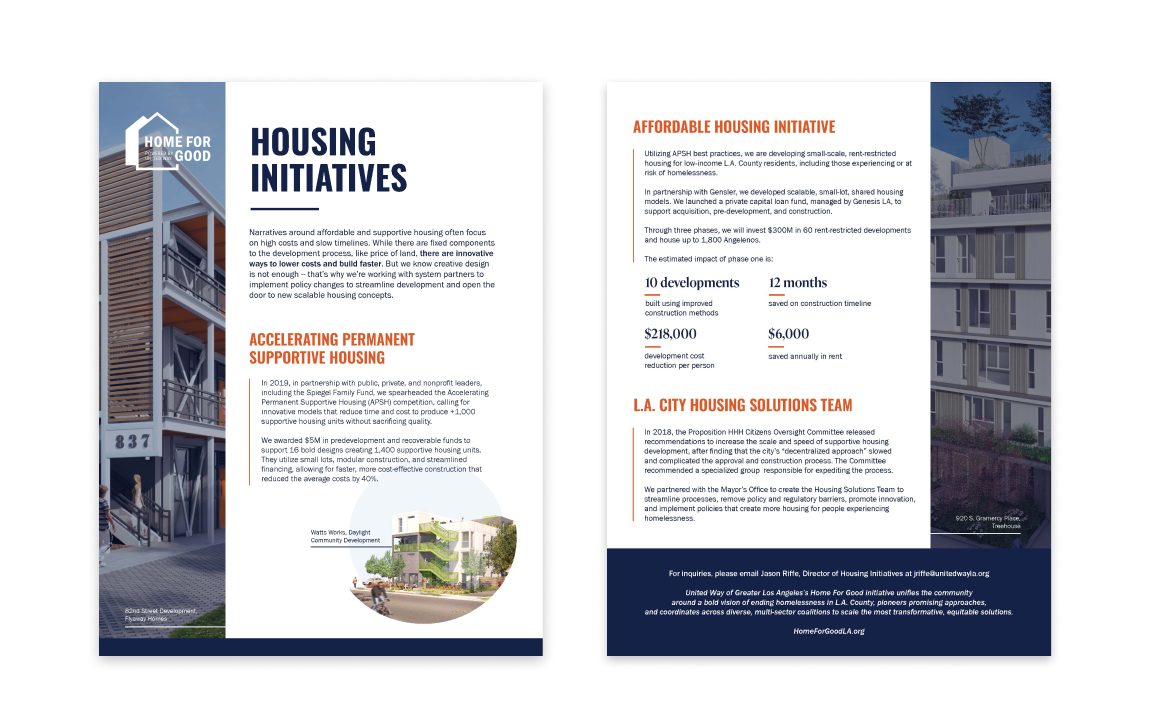 THE RESULTS
Since launch, the Home For Good website has yielded notable organic engagement, with average visitor session lengths and pageviews doubling typical benchmarks. Visitors are most interested in learning more about Home For Good (45% click-through rate from the homepage) and reading Home For Good's Street Strategy for L.A. County report outlining 10 strategies and three competencies for Los Angeles communities to fund and implement (30% click-through rate from the homepage). Given the website's goals of engagement and empowerment, we are very pleased with these results and expect continual traffic growth leading to greater collaboration in the space.