The People's Project
Get Help, Give Help
Block by block, The People's Project is working across Los Angeles to scale mutual aid and ensure the everyday needs of our community are met. It's building and scaling the capacity for organizers, volunteers, and neighbors to connect communities to rental assistance, food aid, financial literacy, workforce training, childcare, and more. The People's Project is not a charity; it is the community standing together in solidarity, helping each other in meaningful ways.
View Website
→
The Approach
The Challenge
Matching people to critical aid, easily and quickly
The needs of our community are many – and when the systems and institutions tasked with providing critical aid and support fail us – it's up to us to guarantee our everyday needs are met. The People's Project is building and scaling a groundbreaking effort to empower communities through mutual cooperation in South LA and Southeast LA.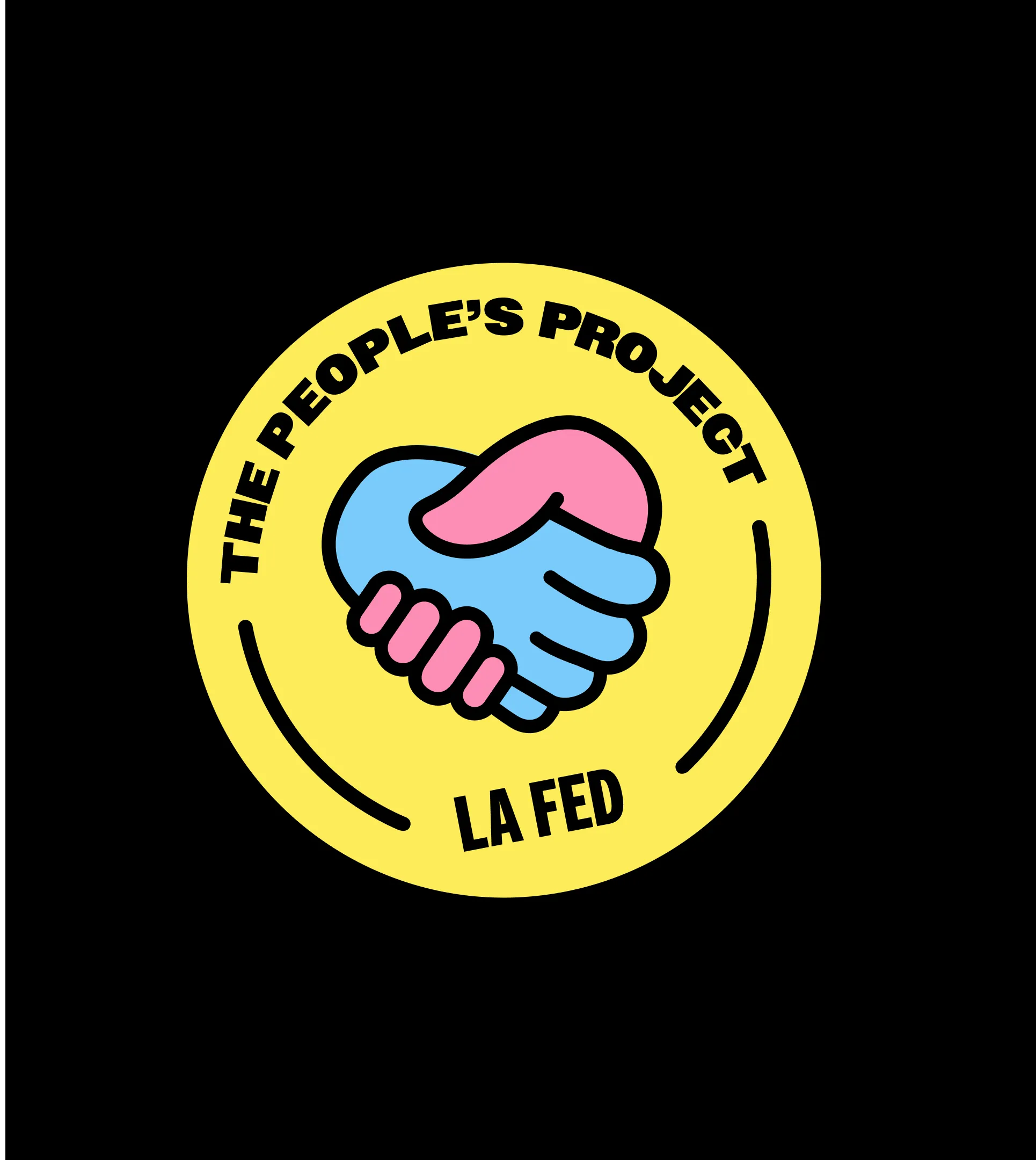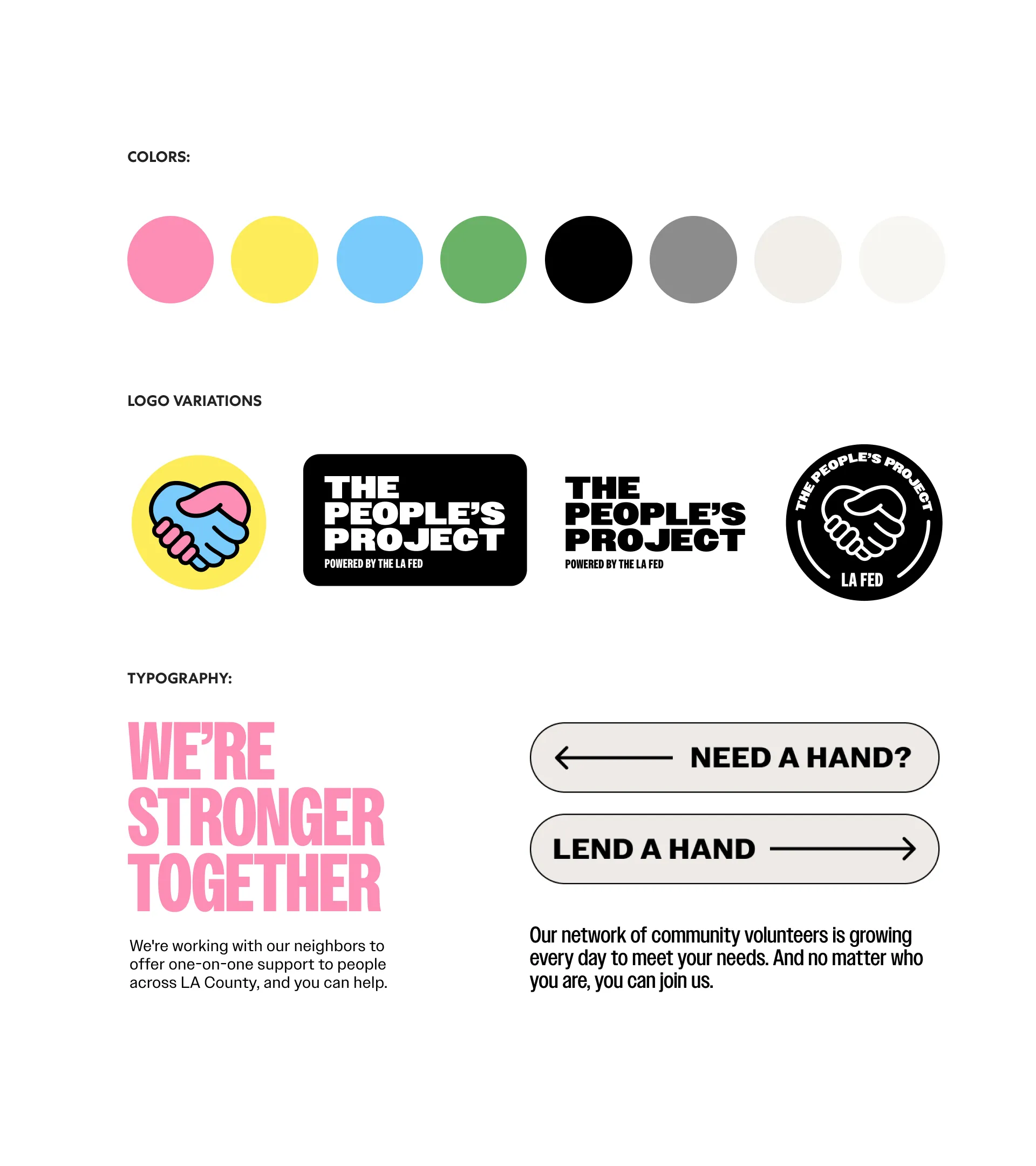 BRAND IDENTITY While The People's Project was started by the LA Federation of Labor, we knew the brand for the mutual aid program needed to stand on its own and be something that could be embraced by the community. We focused on bright, accessible colors with stark backgrounds. Action-oriented typography conveyed a sense of urgency.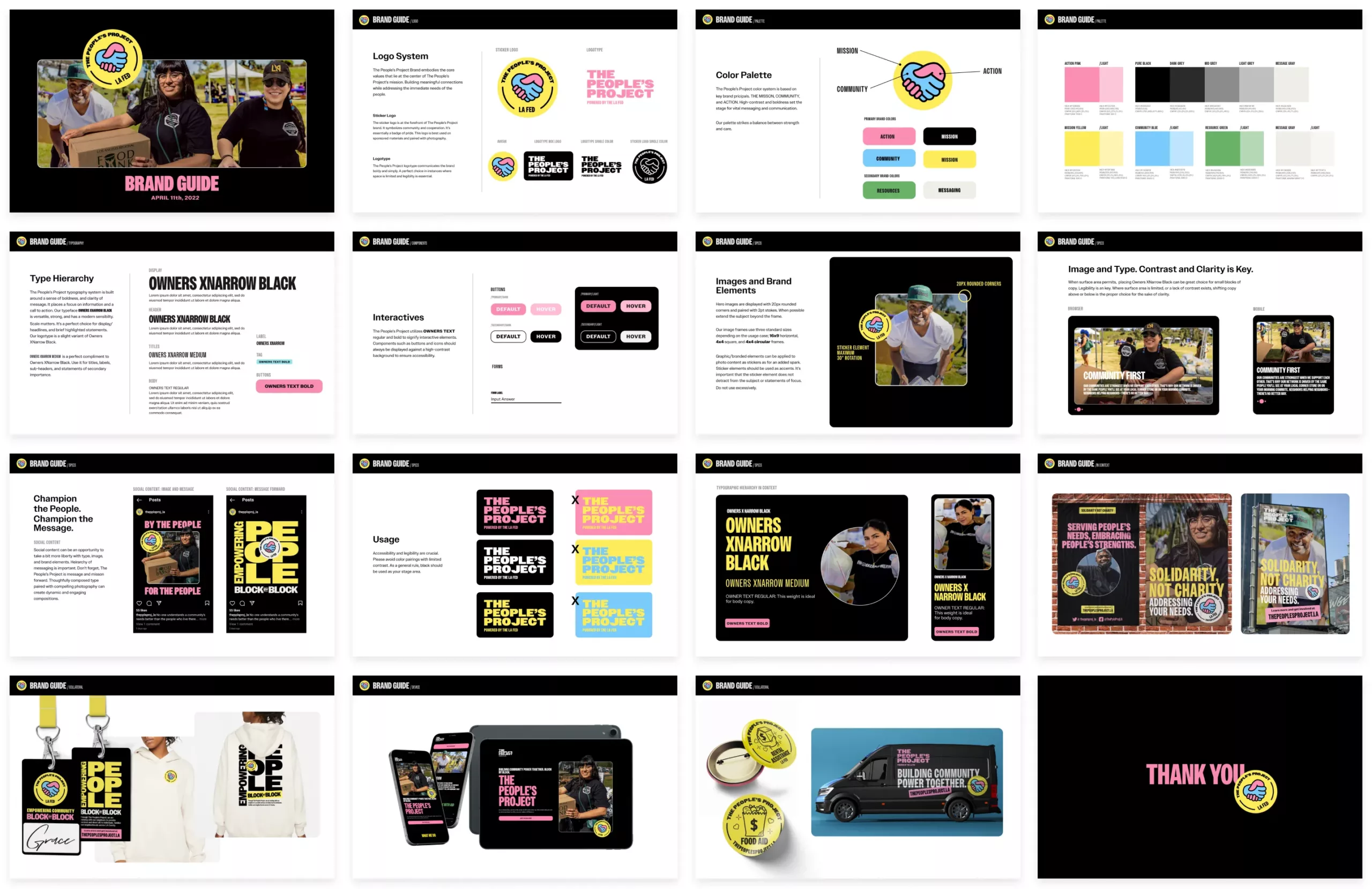 STYLE GUIDE Upon completion of the branding process, Swell created an easy to use guide for future development that included type styles, colors, image treatments, and applications.
Community at the center
Building awareness about mutual aid
Mutual aid is not community service, it's addressing real and specific needs of community members. Through street level activations and storytelling, the People's Project is building awareness and education about mutual aid – what it is, what it isn't, and how mutual aid has been at the center of transformational movements.

The Website
Showing and proving
In building the website, we considered two main goals. The first was to explain what mutual aid is and how it works. The second was to create an ecosystem that could connect people in need with people who can help. The first phase of the website focused on our core messaging with a call for volunteers and partner organizations to join the movement. A later release employs simple calls to action. "Need a Hand?" and "Lend a Hand" orients our users to make an impact in simple ways for their communities.

SOCIAL MEDIA Posts and templates were created to announce the program and give the organization the tools necessary to continue to message the effort long into the future.
Social Media
Centering people and their stories
We are what we need, and because of that The People's Project is training hundreds of neighbors to be the first point of contact to assist neighbors in accessing the resources they need for economic stability.  This means elevating storytelling through social media so community members see themselves at the forefront of transforming and elevating their communities.
Impact
A platform that scales with growth
It's our responsibility as community members to support each other, working in cooperation to address shared needs. The People's Project is a sustainable movement scaling mutual aid across Los Angeles to ensure vital resources – housing and rental assistance, food aid, immigration services, job training, and so much more – are getting to the people that need them the most.