Mosaic
Born to learn
The pandemic has pushed families to rethink and reset their vision for learning. Many are finding the right fit for their children in self directed environments. Enter Mosaic: a learning platform created by Swell to support the stories, community and advancement of self directed education and learning. Built on the values of best parts of self-directed learning with an easy to explore, utilize and connect platform for reimagining learning.
The Approach
THE CHALLENGE
Building structure within freeform
It's new to many people today but unschooling has been a practice that existed long before the ol brick and mortar school house. That made the challenge harder. We asked two questions. 1) How do we create utility and shine a new light on this approach to learning in 2021, and 2) how do we bring together a community that is spread across the country in a way that supports their individual experiences, collectively?
To do this, Swell created a digital experience across sites, social media, video, audio, and written word that didn't only share perspectives, resources, and stories of unschoolers, but mirrored the experience of self directed education itself.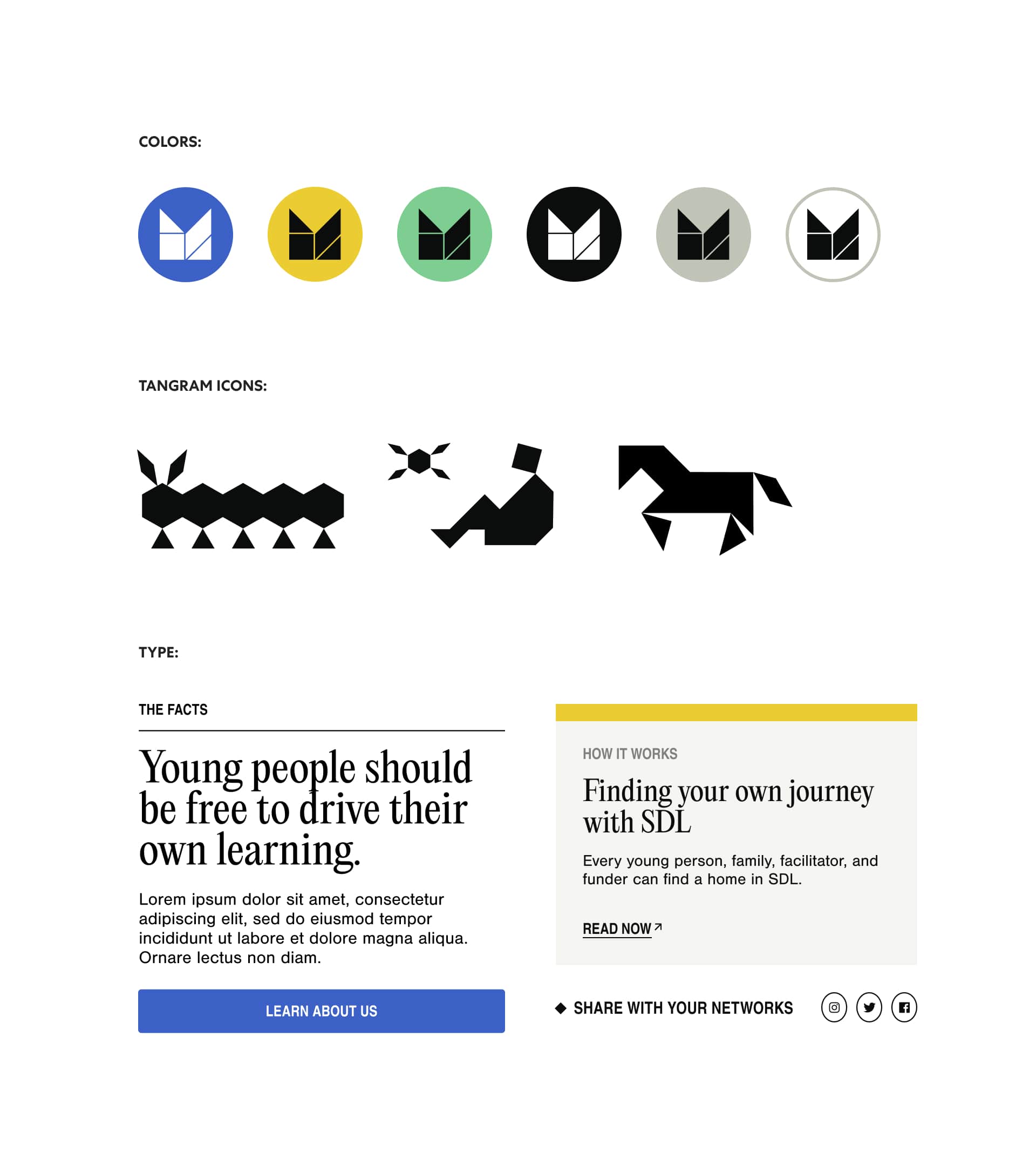 BRAND IDENTITY Creating a brand that was accessible, novel, and a bit weird was essential to supporting the strategic goals of Mosaic.
THE BRAND
Inviting curiosity, creativity, and community
The brand — like the community — should be all those things, too. To achieve this, Swell created an identity that had the flexibility to be soft and strong, new and old, playful and serious, and intimately human. Bright colors and neutral hues playing together with sans serif type along with cinematic photography and video, focused on non-traditional angles and poses—all of these elements working together to create a look and feel that made Mosaic stand out.
THE WEBSITE
Putting the puzzle pieces together
Mirroring the experience of unschooling itself, the website provides users with several choose-your-own-adventure options to navigate the stories, resources, and information within Mosaic's digital home. The resources at the top are organized in a linear fashion, based on the degree to which one has engaged in self-directed learning: I'm curious, I'm ready, and I'm doing it. This clear delineation of the resources improves their accessibility, meaning whether you're a longtime unschooler or you've just learned about SDE and are trying to find out more—you know Mosaic has resources for everyone.
STORYTELLING
In their own words
We show, rather than tell. There's plenty of data to sort when it comes to the effectiveness of various alternative educational models, but we say, why look at numbers and debate when you can make connections with others that will show you this philosophy in action? Through artful, documentary-style profiles that each carry a unique tone but share in delighting in how self-directed learning has worked for them, Mosaic develops its narrative voice to parallel the unschooling experience: focused on the individual, threaded through community.
VIDEO Authentic storytelling that seeks a wide variety of subjects is key to affirming Mosaic's mission to support any person, regardless of their race, socioeconomic status, understanding of SDE, or more, to discover belonging and community here.
BUILDING A COMMUNITY
Stop, look, and listen
As Mosaic continues to grow in this space, its strategic and content development processes are informed by feedback from the community it is built to serve. Mosaic will further develop through thoughtful partnerships to invite its audience to become community validators for Mosaic in their own words as we continue to elevate the awesome stories and experiences of unschoolers everywhere.