Housing California – Roadmap Home 2030
A Home for California
The opportunity to build healthy, fulfilling lives is in jeopardy for too many. Systemic racial injustice, a widening wealth gap, and a shortage of homes people can afford are affecting our livelihoods and threatening what we love about California. And generations of short-term, piecemeal policies have transformed our housing and homelessness crisis into a catastrophe. It was time to think long and think collectively about solving the homeless crisis. Temporary fixes, aren't doing it. In collaboration with Housing California, Swell created The Roadmap Home, a 10-year plan to end — not just address — homelessness in California by 2030, laying the groundwork for a comprehensive legislative strategy to make this plan a reality.
View Website
→
The Approach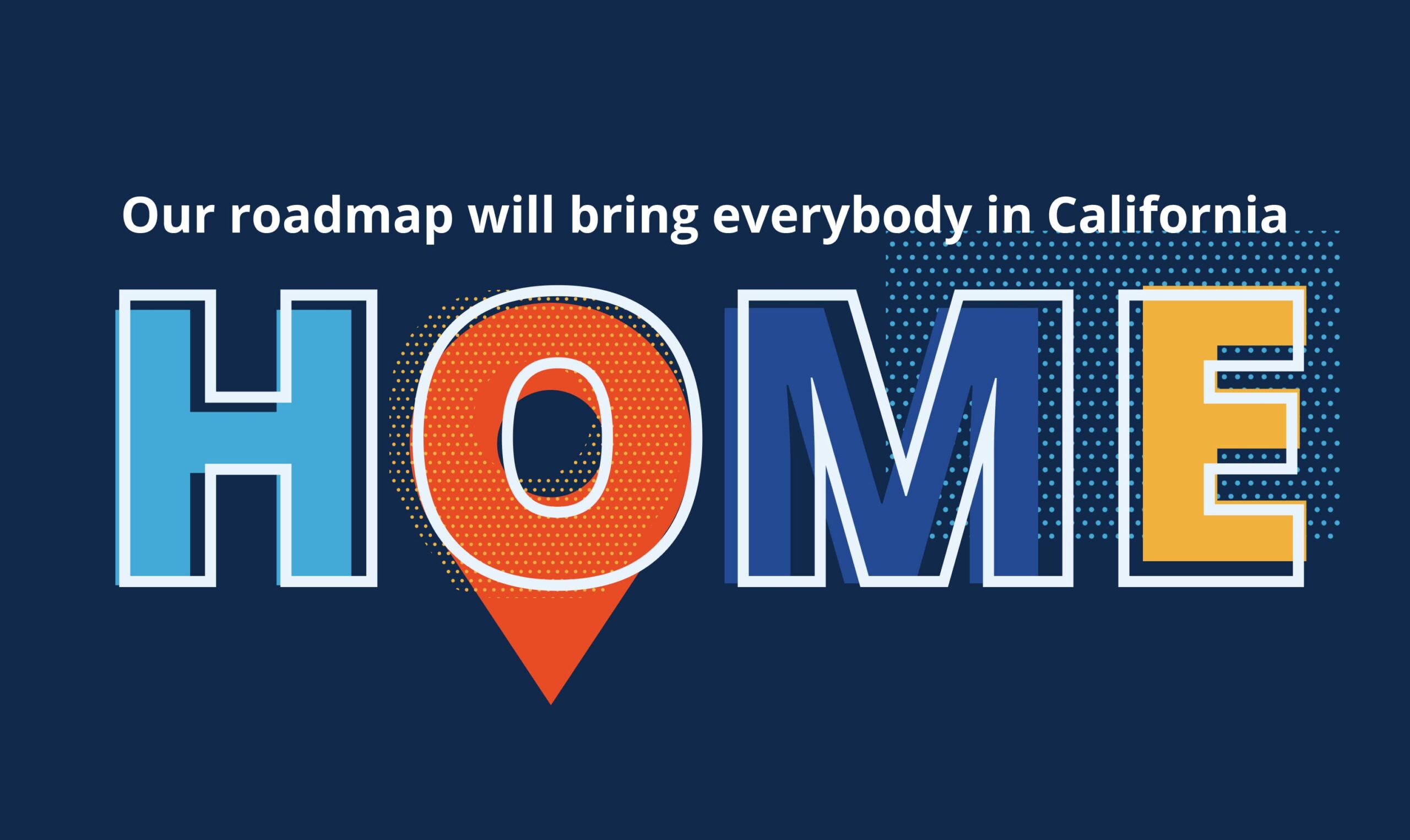 The Challenge
Creating a compelling, accessible message while driving policy action at the top
In a state where broken promises are as common as In-N-Out Burgers, our challenge was complex. First and foremost, how do we convince a disenchanted, skeptical public that change is possible? While the desire to end homelessness is real, the frustration from legacy and half-baked plans from nonprofits and politicians has made buy-in tougher-than-usual. Most important — and essential to convincing the public that change is within reach — was creating a vision and a policy platform that unified the many different stakeholders in the space: homelessness advocates, affordable housing advocates and developers, racial justice advocates, and tenants' rights advocates.
And lastly, at a time when so many advocacy efforts are vying for the limited real estate that is our attention, how can we activate and sustain long-term engagement for a plan that will take ten years to be fully realized?
The answer was clear — messaging and design that is direct, action-oriented, and unafraid of challenging elected officials when they fall short or applauding them when they follow through with our proposed policy and system change recommendations. This messaging and design includes the intentionality of balancing a long-term vision with digital advocacy opportunities and "wins" in the short-term.
The Website
Providing you with your policy advocacy arsenal
Utility and accessibility. That was the north star.
It guided our website development and provided a clear picture of just how comprehensive and critical the Roadmap Home 2030 campaign is to California's future. We articulated the need and urgency, and worked to identify the opportunities for policy success. We made our coalition's credibility a key part of the message and design. Specifically, we outlined the extensive report conducted by Housing California, the California Housing Partnership, and other statewide partners that explains why the Roadmap Home is a proven pathway to ending homelessness and outlines the five pillars of structural change necessary to reach those goals. We also created space for the 57 specific statewide and federal policies that the California Legislature and US Congress could enact over the next 10 years – starting today, even – to get us to "functional zero" for homelessness in CA. And we showcased the broad coalition of researchers, strategists, lobbyists, and advocates who helped build our airtight plan and will help see it actualized.
The website is built to equip our audiences with the information they need to urge our California legislators to adopt the Roadmap Home as the official guide for creating a California where we all can build healthy, fulfilling lives.
Activiation
Reaching a critical mass year over year
To hold our elected officials accountable, we utilized click-to-email campaigns to increase political pressure on a number of priority Roadmap Home issues. These microsprints helped lead legislators to commit to long-term housing and homelessness solutions through the annual state budget, for example, which committed a historic $12 billion to housing and homelessness solutions, or through end-of-session final policy pushes.
At the same time, our ads startegy grew the audience, and engaged them in actions to support the campaign goals. These included pushes for endorsements among public citizens and people of influence, as well as an evergreen email-your-elected campaign to solicit political support for and commitment to the Roadmap's priorities.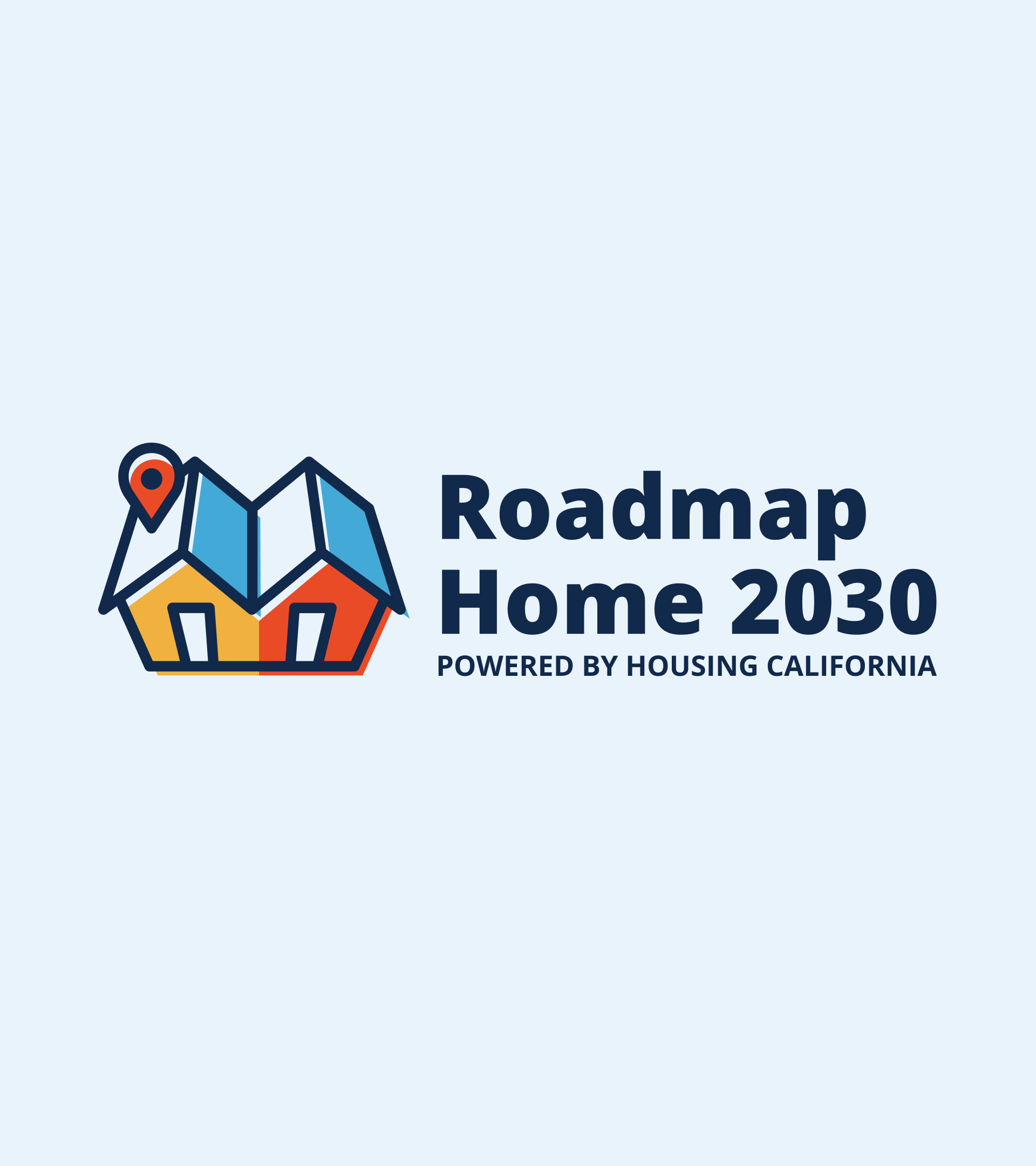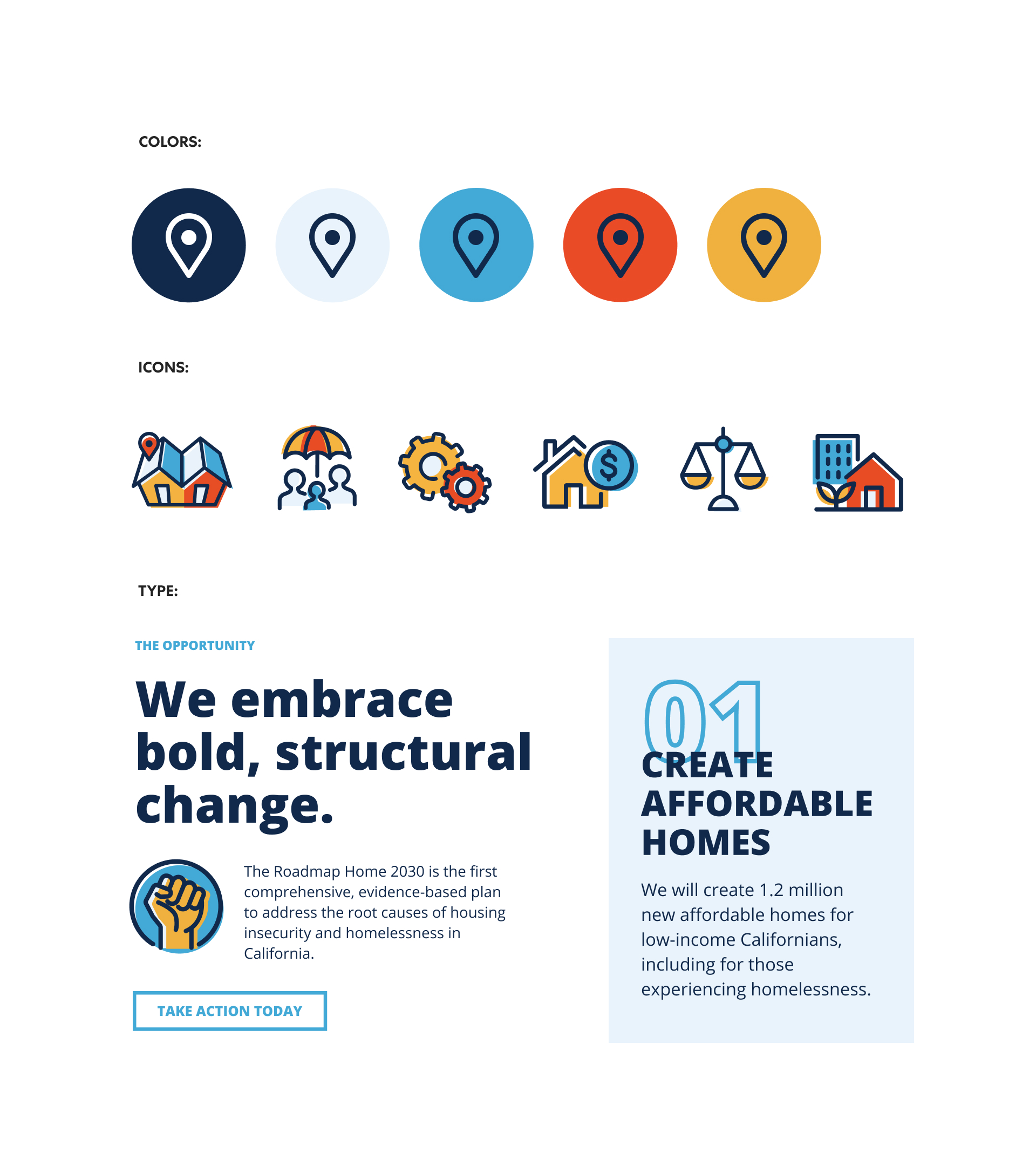 BRAND IDENTITY The brand was evolved from a previous iteration with a new color palette and illustration style. The offset printing — and placement of hand-drawn elements – references street art and protest iconography.
The Brand
Standing up and standing out
With an issue so familiar to us all, our goal was to create a dynamic and bold brand that captured just how sweeping, comprehensive, and urgent the campaign is. The bright color palette allows us to point towards the optimistic future that the Roadmap envisions, and the typography provides flexibility and friendliness in application.
Ultimately, our brand identity grounds our message that we are all together in this bold journey to create affordable homes, end homelessness, protect low-income renters, and close the racial equity gap in housing and homelessness in our golden state.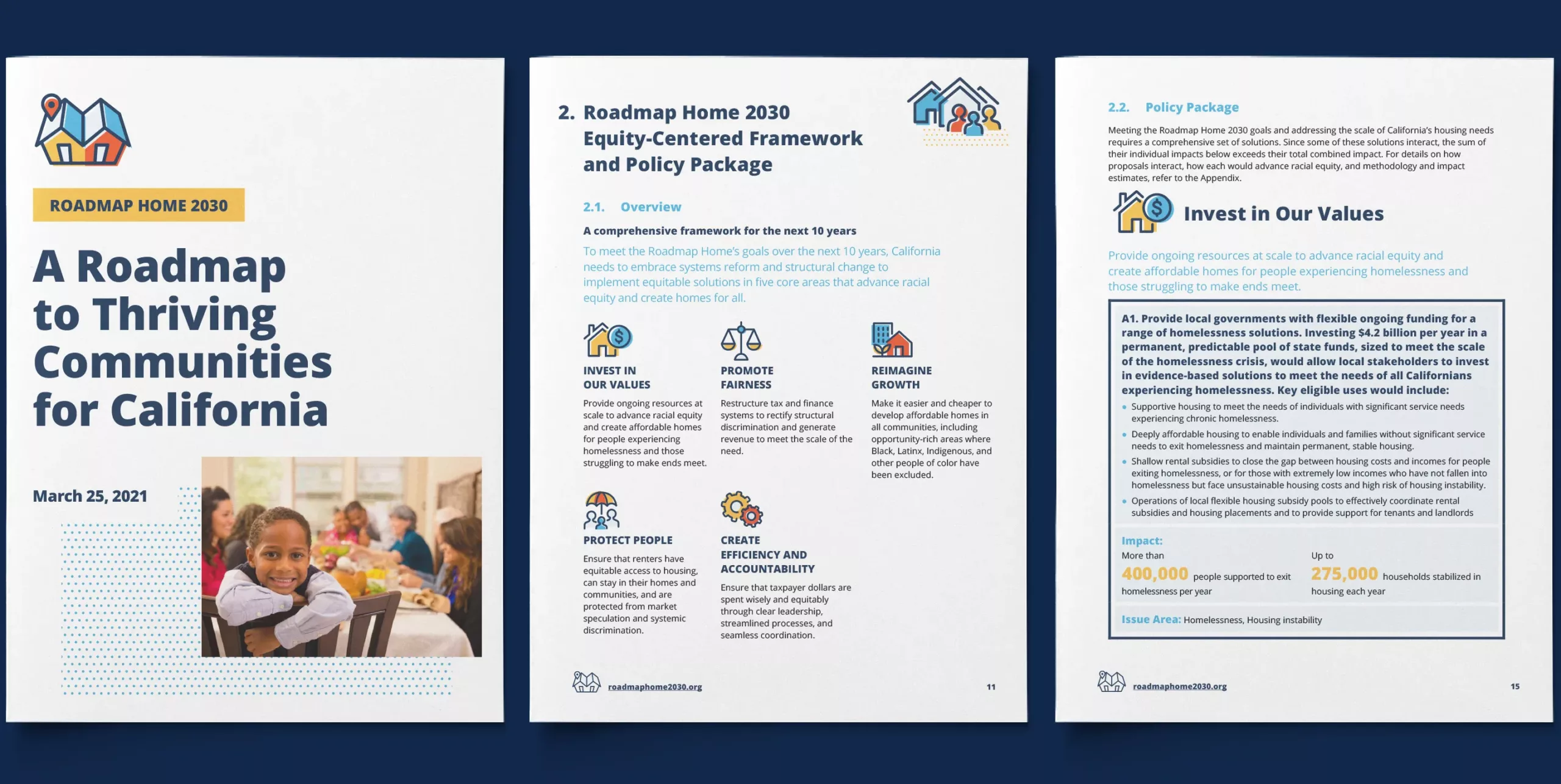 PRINT MATERIALS Our team worked to distill the roadmap into three separate documents for users to download and print — a condensed Executive Summary, a comprehensive Roadmap, and an Appendix with in-depth information.
Results
Our work in collaboration with countless dedicated organizations, advocates, and policymakers led to a state budget that invests $12 billion to address our state's housing and homelessness crisis — the largest investment California has ever made to end homelessness. And that's only Year 1.
In the weeks, months, and years to come, our coalition is increasing our volume to make sure that those investments and legislative victories continue — that critical bills in our plan pass to ensure that no family falls through the cracks.