Re-Imagine L.A. County – Measure J
Re-Imagining L.A. County
Following the murders of Breonna Taylor, George Floyd, Andres Guardado, and so many others, L.A. County residents demanded justice in the form of real, comprehensive police reform. In July of 2020, Measure J was born, and with it, a historic opportunity to finally change our budget to prioritize care, not punishment.
View Website
→
The Approach
THE CHALLENGE
A defund the police message that voters won't reject
It's no surprise that police unions too often have a stranglehold in deeply entrenched local politics and campaigns—L.A. County is no different, where the Sheriff's Department consumes nearly one out of every two tax dollars.
Measure J faced an uphill battle given the police union's track record in fighting reform, but what we lacked in funding we made up for in building one of the broadest coalitions — ever. Bringing together advocates from nearly every sector—criminal justice reform, education, climate change, housing, youth justice, health care, and small business—we were able to connect organizations that had never worked together to unite for a common goal. Supporting our most vulnerable communities helped to realize racial justice by prioritizing care over punishment.
From soup to nuts, Swell led a fully integrated, multilingual campaign that began in July to get the measure on the November ballot, and culminated in a historic, unprecedented victory November 3rd.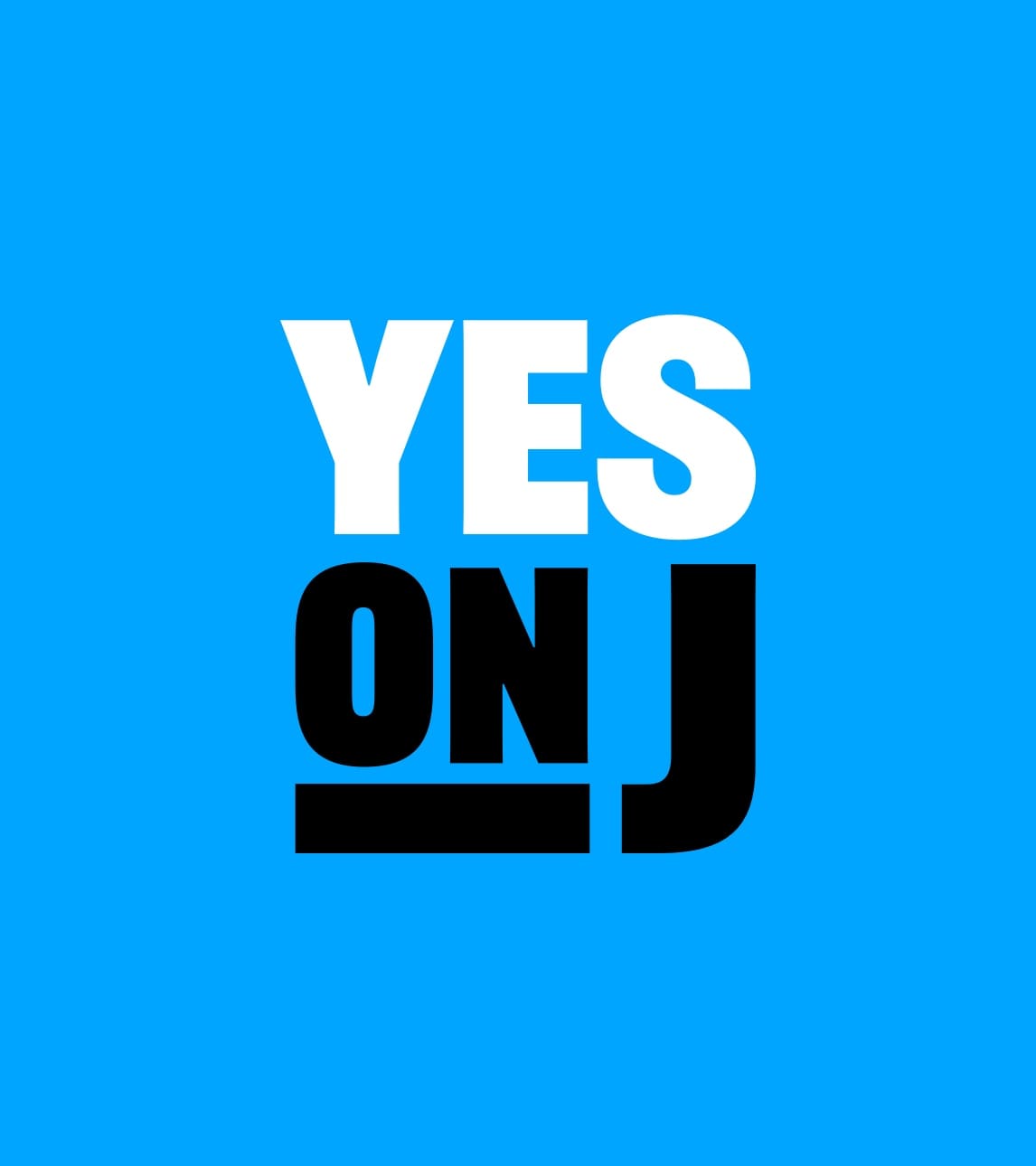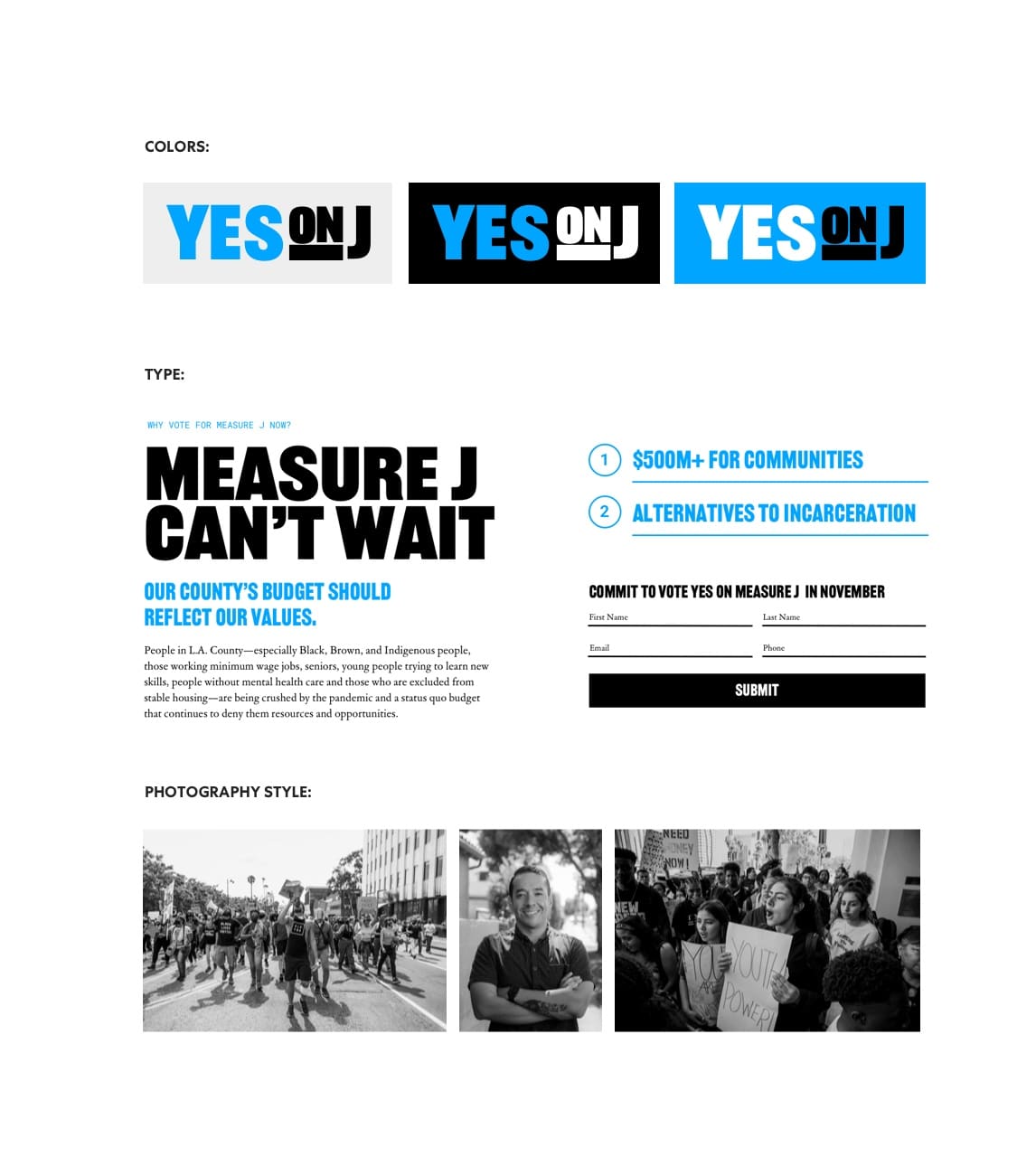 Campaign Identity Because of the ad hoc nature of the campaign, the "Yes on J" identity was built in realtime by creating, adapting, and modifying guidelines as we went. This unorthodox process allowed us to see what was performing with various audiences and gave us opportunities to react.
THE WEBSITE
A campaign website that also serves as an advocacy tool
Measure J was a community effort championed by a broad coalition of advocates. As such, the website reflected core characteristics of the coalition, as well as an accessible and understandable, visually striking layout of our campaign priorities. It served as an educational resource that pulled in key data and insights to tell the story of why Measure J was needed in L.A. County, who Measure J was for, and the hundreds of allied organizations, elected officials, and prominent activists behind the effort. As the campaign evolved, the website served as a hub for shareable assets, campaign materials, FAQ, and voter registration materials. Of course, given the diversity of language in L.A., it was fully bilingual.
Website More than 229,008 people visited the website throughout the course of the campaign.
THE COALITION
Building the most progressive movement in the history of Los Angeles
We said this coalition was historic, and we weren't kidding. Led by ACLU of Southern California, Justice L.A. Now Coalition, Black Lives Matter Los Angeles, United Way of Greater Los Angeles, Supervisor Holly Mitchell, Patrisse Cullors, Dr. Melinah Abdullah, La Defensa, and hundreds of others, Swell helped open the tent for progressives across the state and country to support Measure J. Celebrities also wanted in, and high profile celebrity activists such as Rosario Dawson, Danny Glover, Common, Brigitte Lundy-Paine, Lil Dicky, Sophia Bush, and Allison Pill also voiced their strong support for Measure J.
 
THE MESSAGE
Mental health care, racial justice, jobs, and housing.
At their core, budgets are a testament of values. However, talking about the nuances of L.A. County budget allocations aren't necessarily the sexiest or most compelling talking points.
To keep our campaign focused on what mattered to voters, Swell distilled extensive polling, data, and research to develop a messaging framework that centered racial justice and health, housing, and jobs as core tenets of the campaign. It was important to not just focus on divesting from systems of harm and punishment, but leading with a vision for the future by investing in care and community.
We understood that in order to win, we didn't only need to galvanize our core supporters, we had to open the aperture to extend beyond hardcore progressives. This meant grounding the campaign in a care first vision that helped inspire millions of people to vote in support of Measure J while remaining true to the defund movements that have led us here.
SOCIAL MEDIA
A consistent message through 1,000 microphones.
In any political campaign, the challenge is creating dynamic messaging while still keeping a consistent visual throughline—all while pushing out an immense amount of content. Our aim was to not only diversify the language and tone, but utilize every different format available on social media to reach different segments of our audience under the same Yes on J brand. That approach was reflected from Instagram stories to Twitter polls, to Facebook carousels, and YouTube pre-roll.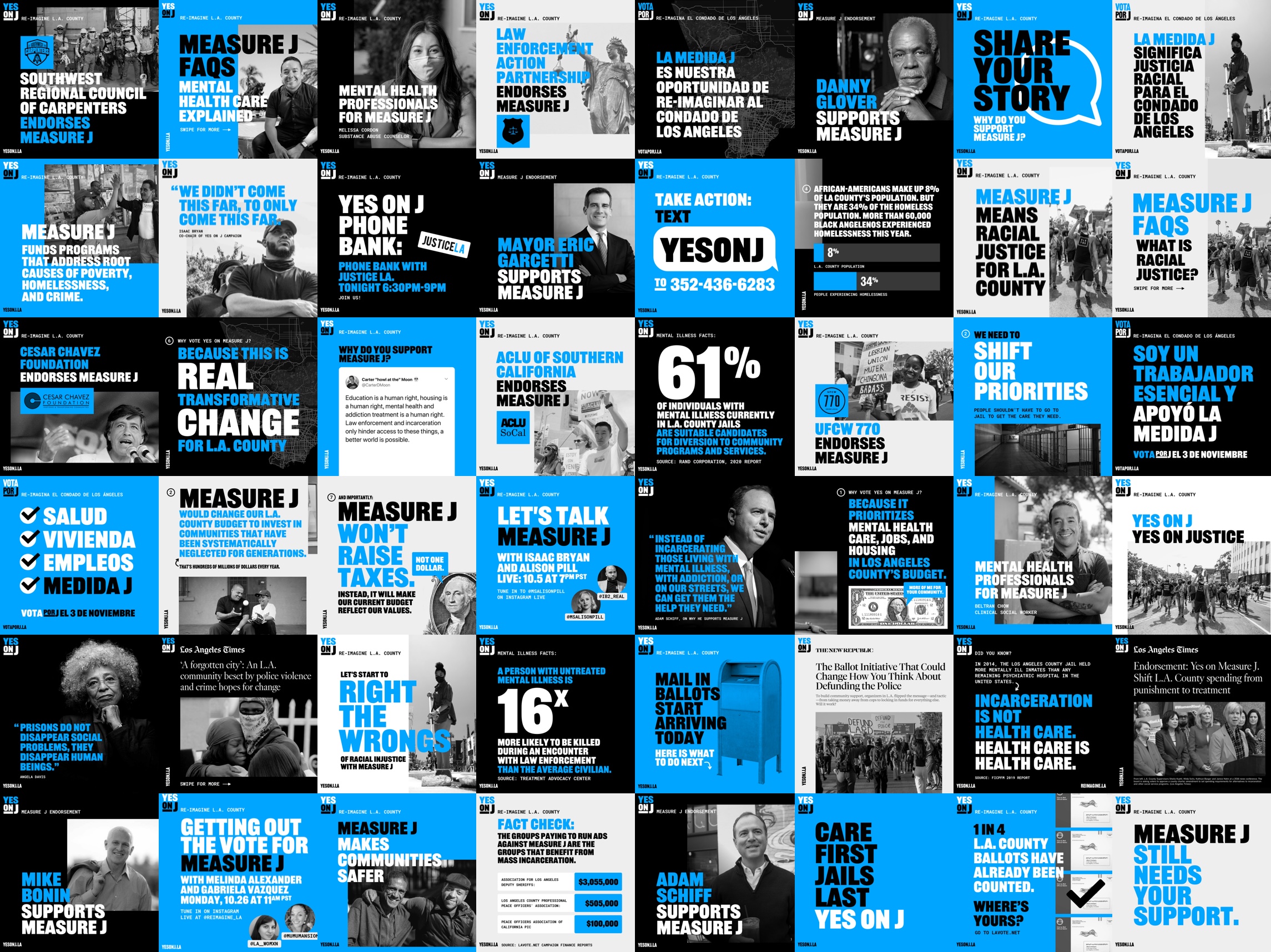 Social Media Over the course of the campaign, our team produced hundreds of unique social media pieces that built an online audience of thousands from the ground up.
DIGITAL ADS
Flood the zone while picking your spots
In a pandemic reality where door knocking and traditional campaign outreach was limited, digital advertising was imperative in making sure that the millions of L.A. County residents heard our message loud and clear. Utilizing voter data, highly segmented audiences including Facebook, Twitter, Instagram, YouTube, Google Search, and Google Display, Swell ran an aggressive campaign with hundreds of pieces of creative.
The result? Over 100 million impressions in L.A. County.
Anthem Video One of our most effective messages was our anthem video voiced by campaign co-chair Issac Bryan of the UCLA Black Policy Project.
VIDEO
Meet the people behind Measure J
Like our social content, our video content was tailored to format and platform. From video ads featuring a wide range of endorsers to a television ad—produced and executed in less than 3 days—these videos provided shareable and engaging content that resulted in over 1,000,000 views throughout the campaign.
THE IMPACT
An electoral victory heard around the country
Few elections are historic, but this one truly was. Not just because a county larger than 42 states passed a comprehensive police reform bill, but because it was a culmination of the work of so many activists who have been fighting for this type of specific justice for generations.
Measure J isn't just progress for L.A.County, it's a model for cities and counties around the country to think about addressing racial justice through public budgets. This is how we make Black, Brown, and low-income communities get the fair share of funding we all need to succeed and thrive.
Our work helped to raised over $139,000 in less than three months and secure Measure J's victory with 57.1% of Los Angeles voters approving the measure. That's more than 2.1 million votes. Swell is proud to have led this campaign, and in turn, help realize this legacy in policy.